Pearl Harbor day 7 December 1941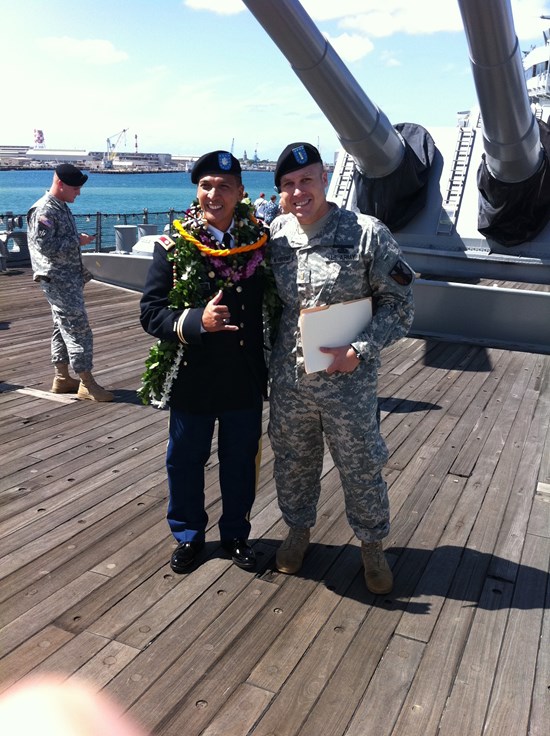 Pearl Harbor day 7 December 1941
This photo was taken a few years ago on the deck of the USS Missouri at Peal Harbor with myself and LTC Adonis Basto at his promotion ceremony that was held in private in the Captain's quarters. During this time in my Army career I had the great honor to be serving as the Aide-De-Camp to then Brigadier General Compton. The commanding General of the 9th MSC.
The USS Missouri is the ship that the Japanese surrendered on in 1945. The exact spot of the surrender is right behind the guns in the photo.
The war officially ended on the deck of the USS Missouri in 1945. It is now parked in Pearl Harbor next to the USS Arizona that was sunk by the Japanese attack on 7 December 1941 where the war began.
Interesting trivia fact: even though the Japanese had scheduled to come aboard to surrender formally, the US was still afraid of a surprise attack by the Japanese. The guns behind me in the photo were loaded and pointed at Tokyo along with other ships and 1,000 planes flying that were ready to attack. Thankfully the Japanese arrived as agreed, boarded the USS Missouri and formally surrendered.
I Personally have strong roots and family ties in Hawaii. 7 December is always a day that we observe and hold near and dear to our hearts.
-Mark Newgent
949-529-0497
Mark.Newgent@KW.com
Mark4OC.com
Mark4Irvine.com
#RealEstate #MarkNewgent #Irvine #OrangeCounty #California #Vote4Mark #NeverQuit #IUSD
#pearlharbor #ww2 #military #neverforget