To Whom It May Concern:
I first met Mark Newgent in 1991, in my 7th grade English class. He attended daily but did little work. Mark did not do well in any of his junior high classes, and at the end of the school year, Mark moved on, and I heard no more of him until 2007, when I was surprised to receive an email from Mark. He was about to deploy overseas, and was contacting me to say he remembered things we'd discussed in class. I was deeply moved that he would reach out to me, and I was impressed that he'd made positive steps in his life, serving his country in the military for 11 years at the time. This email began to reveal Mark's true character: He is a man who makes commitments and sticks to them.
In 2013, I received another email from Mark, this time informing me that he had graduated college and had attained the rank of Captain in the army. He was taking command of a company. Mark's persistence and abilities are evident. Not only did he pursue and earn a college diploma, but he also advanced through the military to Captain and Commander of a company of soldiers. Determination and leadership like this is rare, and Mark's story is an inspiration to many. I keep his picture and emails in the front of my desk binder, and I share his story with students who are struggling.
Now, having served his country for 2 decades, Mark is retiring from the military and is running for a seat on the Irvine school board. His life reveals that he is a dedicated, intelligent man, and he is already taking steps to improve the Irvine district. As a school administrator, I can tell you that Mark is the kind of determined, action-oriented member vital to any school board. Mark Newgent's purposeful leadership will benefit the Irvine school board and Irvine Unified School District students.
David L. French
Principal
McClellan High School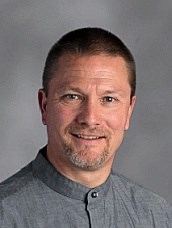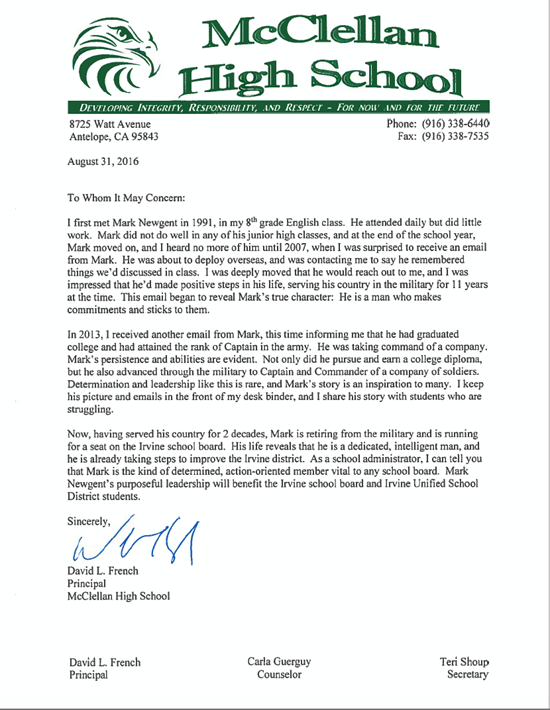 #vote4mark #mark4schoolboard #election #winning #Irvine #OrangeCounty #California #neverquit
www.Mark4Irvine.com
news